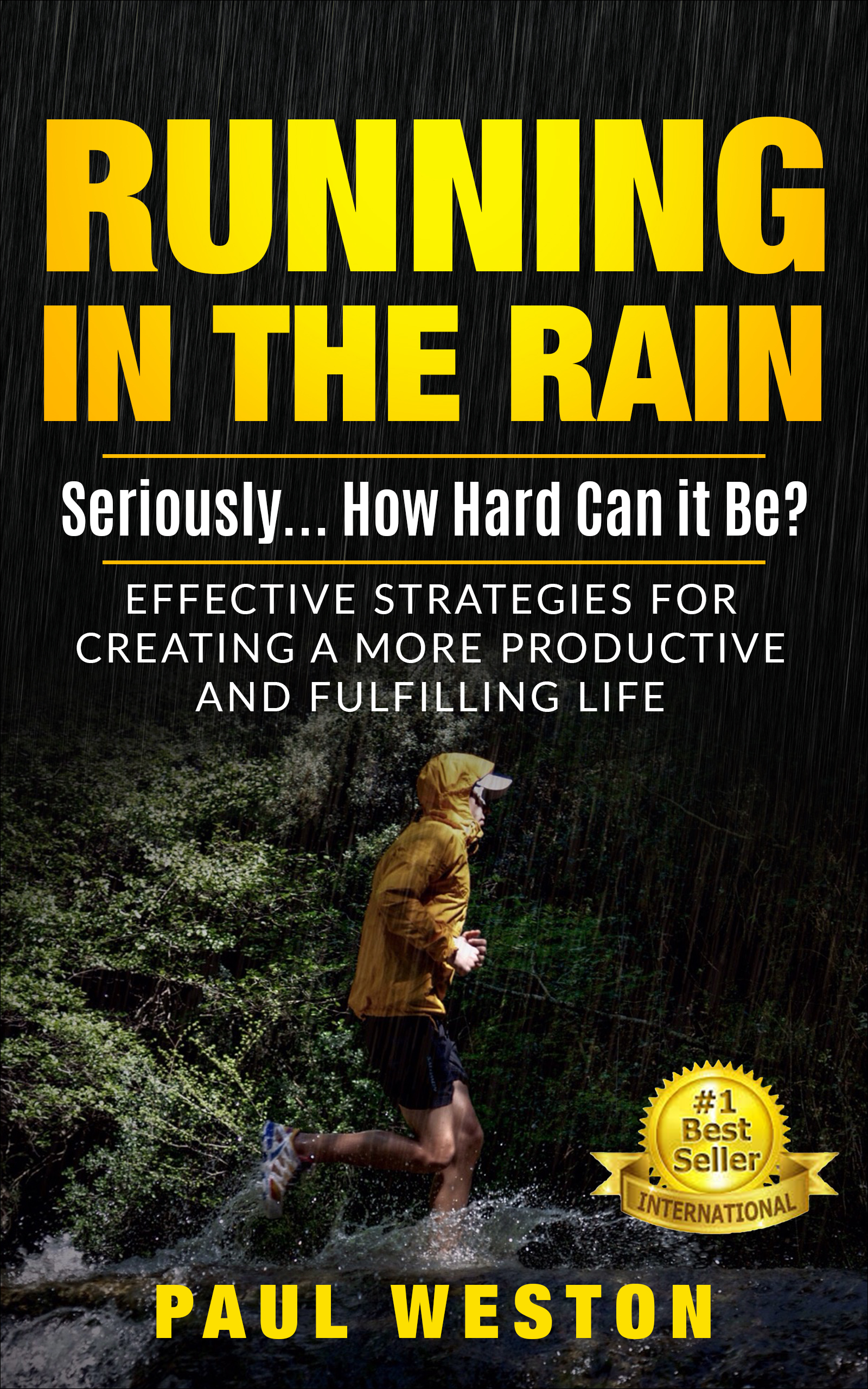 A logical and systematic guide to being a better organized, functional, productive and committed person, in order to overcome your daily challenges and lead a truly fulfilling life.
Running in the Rain isn't hard – it's just a bit uncomfortable at times. But doesn't it feel good to know you stopped making excuses and just got out there and did it?
Life's the same. You can either stay indoors making excuses, or you can get out and get on with things.
Paul Weston presents a systematic approach to getting more out of life by guiding you through a number of easy-to-use steps.
Learn how to:
Use Physical Effort to Build Mental strength

Understand your Energy Zones – Professional, Personal and Social – and the dangers of dilution

Recognize that goals stink – it's systems that matter

Focus on what is really important to you rather than wasting time on meaningless activities

Lead a distraction-free life

Make the effort when you don't feel like it

Kill off procrastination by adopting a really simple cure

Put adversity into perspective in order to stop moaning and get active
Readers Praise Running In The Rain
Paul has written a book not only to inspire us to get out and get things done, but also to give us a framework that we can use for our own circumstances. His experience and expertise are as wide as anyone could imagine and he draws on it all."

Sir Robert Fulton

Former Commandant General Royal Marines
Running in the Rain had me engrossed from page one. Paul writes in a manner that feels like he is having a candid conversation with you. This book will have you look at how busy you truly are, as well as why the 'to do list' may be holding you back. It is a much-needed and highly-recommended read in today's hectic 'always-on' society.

Paolina Allan

Former Professional Triathlete, Top-Ranked Masters Road Cyclist
The more I read of this immensely enjoyable book the more blessed I felt – why? Because I was reminded how fortunate I am to work in an environment where I am surrounded by individuals who snatch every opportunity to 'run in the rain'. Working with those who have incurred life-changing injuries resulting in paralysis and limb loss but who have positively reconfigured their lives and grasped the future is deeply humbling but also unsettling – do I approach my life with the same positive mindset?

In a similar vein, Paul Weston prompts us to ask ourselves whether we are maximising life's opportunities, and he presents a framework and a practical set of tools to help us both recognise and realise our potential. He achieves this through a richness of story-telling made possible by the fullness of his own life experiences – son, husband, Royal Marine, athlete, musician, businessman. Here is someone we want to listen to and who we want to learn from as he presents us with an invaluable guide to understanding our personal and professional selves and how we can maximise the gift of life.

David Pond

Chief Executive, Great Britain Wheelchair Rugby
As an avid reader rarely do I read a book that seamlessly integrates personal and professional lessons one chapter at a time. Through Paul's unique experiences, "Running in the Rain" exceptionally helps elevate your best self to the next level with simple, yet crucial tools that will make the most arduous of tasks pale in comparison to the feeling of true fulfilment once achieved. Bravo Paul!

Gisela Carere

President, Benchmark Benefit Solutions Inc
If you are like us, and you want to get more out of your life, Running In The Rain, is the book you should read, and keep close to you as a tool to manage your personal, professional and social zones. Paul has written this book in a way that invites you to share in his experiences, and create awareness of opportunities, while providing a realistic, sustainable system to focus on better fulfilling your life.

In every chapter Paul generates thoughts on how we can see the grass roots of improving the quality of our lives, and those around us, in a way that is nourishing and collaborative.That he mixes this knowledge, through practical examples of applying his system, with humorous anecdotes, makes this book a real page turner.

Vickey and Mike Gibson

Managing Partner Crestcom Eastern Canada